We are Manufacturer, Supplier and Exporter of Panel Air Conditioner, Panel Air Conditioners. Our setup is situated in Kolhapur, Maharashtra, India and majorly we serve our customers from all over India, Asian, African and Gulf countries.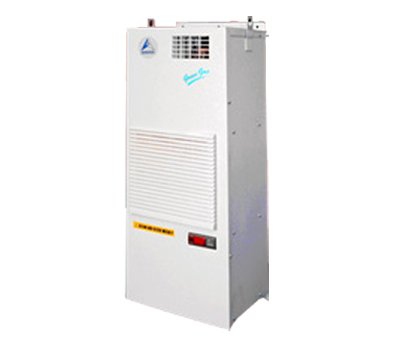 The electrical / electronic components used in control panels of different applications dissipate heat continuously. Also these panels are operating round-o-clock and round the year at any location. The life of electronic components reduces drastically if exposed to high temperatures for long period. Normally, a temperature of 27 Deg. Celsius with 45-50% relative humidity is considered ideal for maximum life of switches and other components. Hence reliable air-conditioning is required to remove the heat for sustained functioning of these panels.

PANCOL offered by NEW ANUCOOL ENGINEERS is highly energy efficient, light weight, "Fit and forget" series of standard Panel Air conditioners ranging from 500 W upto 3500 W.
Features
High quality CRCA / SS 304 Powder coated body
100 % tested for performance on specially designed Test Rig simulated for on-site load conditions
Closed loop design to keep hostile industrial environment out of panel. No dust, no fumes, no danger to the inside electronics
Operating on environmental friendly 134a refrigerant, which is an approved refrigerant under Montreal protocol. 134a is having zero (ODP) Ozone Depletion Potential
Emerson or equivalent made compressors with high reliability
Microprocessor based Digital Two set point Temperature indicator cum Controller (TIC)
Potential free alarm for high and low temperature alerts ( Optional )
High / Low pressure cut-off switches
Lubrication free sealed ball bearing motors
Pancol Mounting Arrangement
The choice of mounting depends obviously upon the space available for fitment on panel. We offer air conditioners in side mounting, top mounting and stand alone type to suit any type of panel. Side Mounted Control panels where there is an unrestricted flow of air from one end to other end this type is preferred, so as to ensure uniform cooling of panel. These panels are mounted either on the doors or sidewalls of control panels.

Stand Alone Type The use of side mounted or top mounted panels is not suitable in some cases like for cooling of partitioned panels, where this arrangement is preferred. Top Mounted This type is preferred when side mounting or stand-alone type is not suitable. This Panel AC is mounted on roof of the control panel.
Advantages of Pancol Over Standard Room Air Conditioners
High SHF : For panels, due to no occupancy and no positive fresh air Intake, the latent heat component is almost negligible, resulting in nearly unity sensible heat factor. Thus the dehumidified air quantity required will be much higher than that available in a room air conditioner of equivalent capacity.

Bigger Evaporator Coil and Evaporator Fan : To remove the high sensible heat load effectively, both the evaporator fan and evaporator coil need to be substantially oversized compared to room air conditioners. This increases the first cost of panel air conditioners compared to room air conditioners.

High Energy Efficiency Ratio : Due to bigger evaporator coils, panel ACs operate at much higher suction temperature ( approx. 6 to 7oC than room ACs ) Thus EER is improved. Generally energy saving due to Panel ACs is about 25%

Reliability : High priority is assigned during design and testing of Panel ACs to achieve a higher MTBF ( Mean Time between Failures )

Continuous Duty operation : Standard room ACs is designed to run 8 to 10 hours a day whereas Panel AC is designed for continuous duty operation round the clock, round the year.
Pancol Applications
Power generation
Chemical plants
Process automation
Steel Plants
CNC Machine Tools
Textile machines
Food processing machinery
Telecom
Standard Models

Refrigerant

Cooling Capacity Watts

Power (W)

Rated Current (A)

Power Supply

Size W x H x D MM

Weight In KG